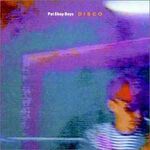 'Disco' was released following the album 'Please', and contained remixes of some of the singles and b-sides from 1986.
Release Details
Edit
Many of the tracks listed on the liner notes are not labelled as they should be, but the list below corresponds to the names of the actual versions as they were originally released. The 'Disco Mix' of West End Girls is actually a unique version on this release, in that it is the first part of the Shep Pettibone Dub tacked on to the last part of the Shep Pettibone Remix.
Chart Details
Edit
UK: #15
USA: #95
Denmark: #15
Netherlands: #7
Italy: #42
Hong Kong: #1
The all the album's photographs are actually still images from the 'Paninaro' video, which was shot by the band themselves.
Ad blocker interference detected!
Wikia is a free-to-use site that makes money from advertising. We have a modified experience for viewers using ad blockers

Wikia is not accessible if you've made further modifications. Remove the custom ad blocker rule(s) and the page will load as expected.