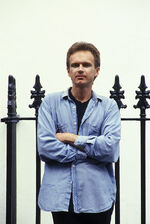 Stephen Hague is an accomplished American producer, who is most notable for his work with British acts. His first production effort was OMD's 'Crush'.
He has multiple credits on Pet Shop Boys albums and tracks spanning the 80's as producer, mixer and more, including production on 'Please' and 'Actually'.
His resume is expansive, having worked with New Order, Erasure, Siouxie & The Banshees, OMD, Manic Street Preachers, Electronic, Bronski Beat and more.