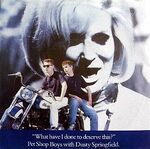 Release Date
Edit
Chart Positions
Edit
UK: #2
USA: #2
USA Club: #1
Netherlands: #2
Norway: #2
Italy: #7
This song was co-written with Allee Willis in 1985, and was originally intended for the 'Please' album. Her writing and co-writing credits include the Pointer Sisters' 'Neutron Dance', Earth, Wind & Fire's "Boogie Wonderland", and more recently, the theme from 'Friends'. At the time of writing, the Boys had wanted to do a duet with Dusty Springfield (who had been in reclusion from show business for some time)), but after approaching her, they heard nothing, and the song was postponed. While recording 'Actually', they caught word that she wanted to do it. The song and single release led to a ressurection of her career and a 1989 album that the Pet Shop Boys themselves produced.
The single was released as the second one from 'Actually', but prior to the album's release. In North America, it was often coupled with the single for 'Rent'. Julian Mendelsohn and the band produced the extended version, and Shep Pettibone did several remixes as well. The b-side for the single was 'A New Life'.
Background
Edit
Neil says he wrote the words to the song while riding the bus home from Smash Hits. "The story of the song is that two people have broken up, and they're both in different places regretting that they've split up, and at the end of the song they get back together again. The man is a pathetic feeble wreck and the woman is meant to be this major capitalist."
Official Versions
Edit
4:19 What Have I Done To Deserve This? (album/single version)
6:49 What Have I Done To Deserve This? (extended) remixed by Julian Mendelsohn
8:08 What Have I Done To Deserve This? (disco mix) remixed by Shep Pettibone
8:28 What Have I Done To Deserve This? (shep pettibone remix) US only
7:17 What Have I Done To Deserve This? (dub) remixed by Shep Pettibone, US only
0:57 What Have I Done To Deserve This? (reprise) cassette only, first portion of (Extended)
The video featured the Boys and Dusty performing on and about a stage populated with Vegas-style musicians and dancers. Chris is seen playing the trombone at one point.
Cover Versions by Other Artists
Edit
2001 Rhea's Obsession (Dancing Ferret Discs)
Ad blocker interference detected!
Wikia is a free-to-use site that makes money from advertising. We have a modified experience for viewers using ad blockers

Wikia is not accessible if you've made further modifications. Remove the custom ad blocker rule(s) and the page will load as expected.